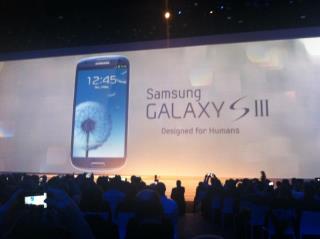 Today Shiny Shiny and Tech Digest went along to Earl's Court in London for the highly anticipated launch of Samsung's new handset, the Galaxy S3. After a few loud and dramatic videos and a real life orchestra (fancy, huh?) the Samsung team took to the stage to introduce us to the slick new handset.
Throughout the launch Samsung was really keen to play up just how much the Galaxy S3 is based on nature (JK Shin even went as far as to say it's "inspired by water, wind, leaves and pebbles") and designed to work "seamlessly" with our day to day lives and from what we've seen so far these aren't just fluffy buzzwords...
Let's start by talking about the handset's impressive screen, the Samsung Galaxy S3 boasts a 4.8" HD super AMOLED 1280x720 display with a super slim bezel, which means the unit itself isn't much bigger than its predecessor, despite the huge screen. It has 8.6 mm thickness and weighs only 133g with a smooth, sleek shape, which the team were keen to stress is based on "a minimal, organic design."
The handset boasts a 8 Megapixel Auto Focus Camera with a range of in-built features like burst shot, buddy photo share and best photo, which is our favourite, as it automatically selects the best photo out of a series of eight. The camera itself has zero shutter lag, which means it takes the photo as soon as you press the button and then spends less than one second getting you back into camera mode. The rear facing camera can also capture full HD 1080 videos and there's a front facing 1.9 Megapixel camera too.
Samsung has packed a whole load of cool new features into its new handset, including a Siri-like S Voice recognition feature, which understands eight different languages and can search for information, show you the weather forecast, organise your schedules and much more. There's also Social Tag, which keeps track of the people close to you and recognises the faces of your friends in your photos, this means when you take a photo it'll recognise who it is, so you can hit a Facebook button and it'll take you straight to their wall to upload. Voila!
The Samsung Galaxy S3 is running on Android Ice Cream Sandwich 4.0 and 16 or 32GB of memory, with a 64GB option available soon, as well as expandable memory, which sets it apart from the iPhone. The handset also boasts a 2,100 mAh battery, which is pretty impressive too.
The Samsung Galaxy S3 will be launching in 145 countries with 296 mobile operators and the 3G handset will be launched on the 29th of May in Europe, the 30th of May in the UK, and the 4G will hit North America, Japan and Korea in June.
You can get the handset in a choice of two colours, blue and white.
More review ...